Moon Valley Studio is a portrait and wedding studio located in the quaint wine country town of Glen Ellen--in the picturesque "Valley of the Moon." This part of Sonoma County, California is best known for its many wineries, vineyards and gorgeous scenery.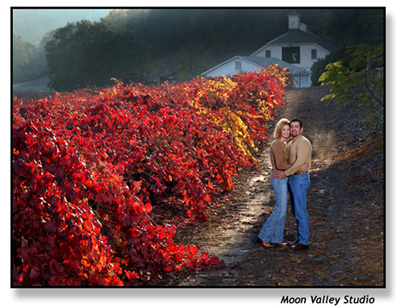 The northern California wine country has become a well-known destination location for weddings, with people arriving from around the world to say their vows in this memorable, romantic location. There are also many corporate events and "working retreats" held here annually generating a need for group pictures, executive portraiture and candid event coverage. Moon Valley Studio was specifically located in the heart of the wine country to service this growing need for quality event photography.

In addition to event services we also offer family and children's portraiture using the scenic local beauty of the vineyards and valley as a backdrop. Strong local ties to the community coupled with a 25 year history in the photographic industry position Moon Valley Studio as one of the premier portrait studios in the area.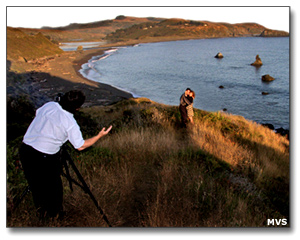 We're passionate about what we do and have been fortunate to turn many clients into friends over the years. We've has been photographing portraits, weddings and events since 1978. Originally a photojournalist, Raymond Baltar worked as Staff Photographer and Photo Editor for Marin's Pacific Sun Newspaper for 8 years. His work has also appeared in Esquire, Family Circle, Oceans Magazine, Writer's Digest, The London Daily Mirror, and many other publications. He owned and operated his own portrait Studio from 1978 to 1997, when he joined Robert Pierce Studios as Associate Director of Photography. Moon Valley Studio was opened in January 2001 to offer high-quality portrait services to clients throughout Sonoma County, with a special emphasis on clients living in or visiting the Sonoma Valley, Napa Valley and Valley of the Moon. Raymond was a charter member and past president of the Professional Photographers of the Redwood Empire.

A digital imaging enthusiast since version 1 of Photoshop, Raymond has also pioneered the use of the web as a display and sales medium since 1995.